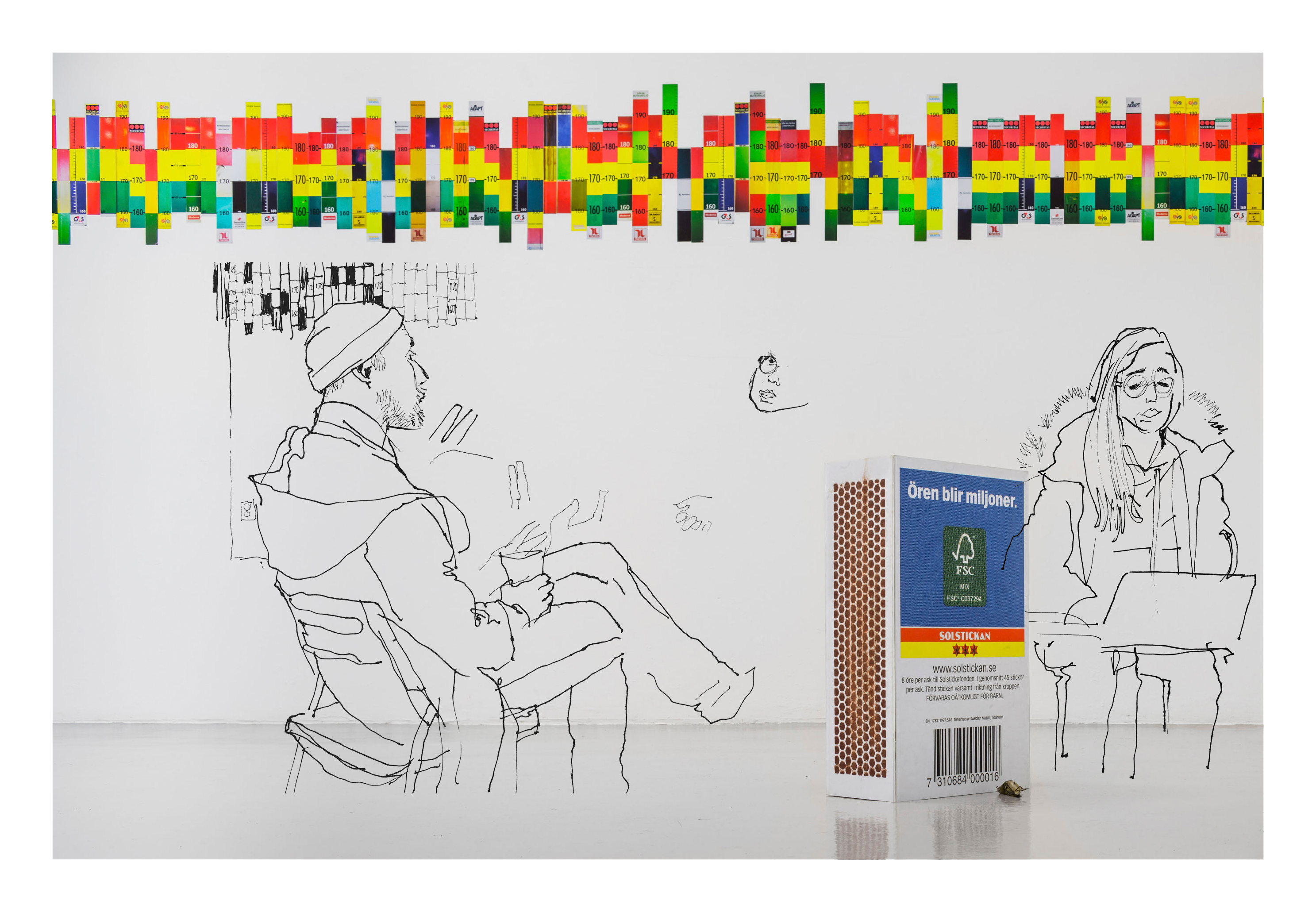 Seen and not seen
MFA solo show
Galleri Mejan, Stockholm, 2014

The exhibition started out thinking about the use of images as points of reference. I created a kind of multi-colored horizon of height markers— the kind typically positioned in front of security cameras so that suspects captured on video can be accurately described.

To calculate how many markers I would need to print, I used a 1:10 scale model of the exhibition space. While installing miniature versions of the markers. I accidentally dropped a pen into the model, which in my mind materialized in the actual gallery at ten times its original size. Instead of a pen I manufactured a giant matchbox,
since a matchbox is quite often used in photographs as a scale reference. By adding this out of proportion item, I could shift the gallery space into a possible model of itself.

An actual gold crest—the smallest bird in Europe—was in turn extracted from a newspaper photo that appeared in a story about these emigrating birds who, due to bad weather, found themselves in downtown Malmö, where hundreds of them died colliding with the windows and glass facades of large office buildings. I got ahold of an ornithologist mentioned in the article who had spent days driving around Malmö taking care of the wounded birds.

As luck would have it, he kept a couple of the deceased ones in his freezer, which he agreed to send to a taxidermist who conserved them then passed them on to me for the exhibition.

One of the birds ended up next to the matchbox, further dislocating would-be points of reference to scale and size. This was my grad show, so included in the process was a public examination. I got in touch with a woman who used to do courtroom sketches for the national newspapers and she documented the examination as she would have a trial. The resulting illustrations were then added to the photographic documentation.


Illustrations: Molly Bartling
Photo: Jean Baptiste Béranger